Finding the Perfect Kayak hoist
A lot of people that own kayaks have always preferred to store it in their garage , hanging from the ceiling using a kayak hoist. Using a kayak hoist, takes away the possibility of damages or falls that can come from standing or lying it on the floor. A kayak hoist provides more leg room for your garage not to talk about the fact that it looks good when it hangs nicely. It also reduces the possibility of being mishandled by people unless being brought down. The mechanical kayak hoist is an kayak storage system that is smart, quite easy to make work, it allows the free flow of air around the kayak, prevents any side or edges from being stressed, stopping it from becoming brittle.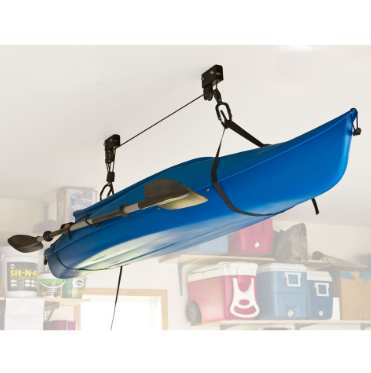 Before finding a Kayak hoist that would work with your Kayak, there are things that must be put into consideration. You must know the weight of your Kayak; A fishing kayak which are normally very heavy might need a different kind of hoist. You must be sure the hoist provides, strong and durable straps, durable lock systems and an understandable balance system.
Overtime while there are other ways of kayak storage, the most preferred, which is the kayak hoist have being frowned upon due to fear of fall of, weak ropes and possibility of wear and tear from the ropes. Why live a life where you can't do want you want? This is why there is the new improved RAD sportz kayak hoist. This comes with new improved strong straps, they come with a safe locking design that takes away the thought don't accidents or fall offs while unlocking, no accidental trigger release, it also holds kayaks up on the ceiling up to 12 ft. The straps are design to distribute weight and ensures your kayak is in the right position. This eliminate accidental falloffs keeps your kayak as new as when you packed it.